Vanished Embarcadero
Make no mistake about my feelings toward the freeway, it never should have been built. There was a raw, abstract, beauty to it, but in context, it was an injustice thrust upon a weakened city by planners embracing the post-war vision of suburbanization and total auto accomodation. San Francisco dodged most of the destruction brought to other cities, including New York and Boston, but it endured the Embarcadero for far too long.
San Franciscodid what it could to ignore the freeway that blocked the Ferry Building. Note the huge pine tree in this photo.
This shot is taken from what is the edge of the water today. The traffic is where the (soon to be completed) park is, and the freeway is about exactly where the portal to the MUNI subway is. For reference, the parking garage next to the new Gap building is visible behind the freeway, to the left of the photo.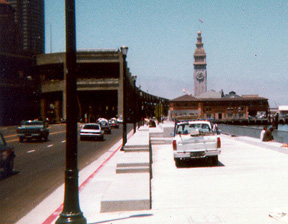 This shot should be easy to relate to today's situation. It also clearly shows the walling effect that the freeway had on the waterfront.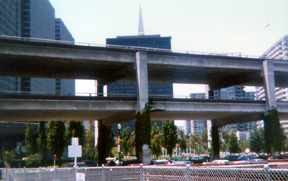 Here there is no need to say anything. The ivy on the columns was a nice touch...
And I just like this shot. It shows the exact beginning of the freeway as it splits from the Bay Bridge ramps. Today, but not for much longer, just a small sliver of the ramp curving from the circa-1936 bridge ramp is still there. Note the triple-level section of the freeway here.