Eventually, the 1989 earthquake did what the city couldn't do on its own. The demolishion of the freeway became a popular lunchtime activity. The Embarcadero came down, followed by the Terminal Separator Structure (the portion of the freeway between the Bay Bridge and Howard Street).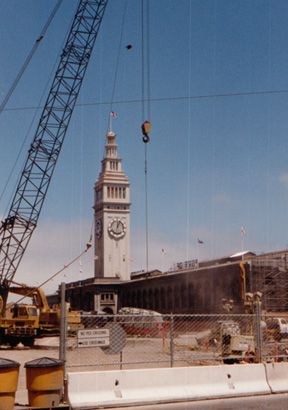 Now, a decade later, the Embarcadero is finished, the rennovation of the Ferry Building is on track to be completed by late Fall, and the process is underway to redevelop the freeway right of way south of the Transbay Terminal into a new residential neighborhood. At the south end, the change is even more dramatic.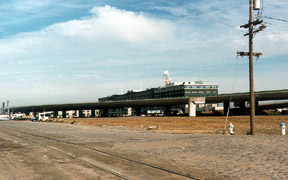 This is shot from the intersection of Fifth and Kings Streets. In 2002, I would be standing in the middle of traffic, looking out at highrise apartments. The large blue building is now pinkish, and would not be visible in this view. When time permits, a "now" photo will be added to show how dramatic the changes have been.