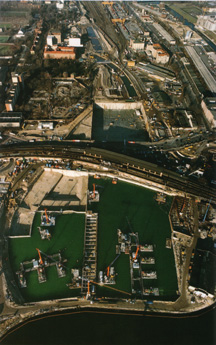 One of the excuses for the cost of transportation projects here in the United States is the complexity of construction in urban situations. In the photo above, from about 1998, Berlin's high water table is evident, as most of the terminal's below-grade construction is flooded. Clear in this shot is:
the main sub-grade railway platform area (large rectangle in the center of the image)
the undergound highway connection
(curving across the left side of photo)
the east-west railway and existing Lehrter S-Bahn station
(across center of photo)
the future U5 subway line
(curving excavation in mid-top of photo)
Spree River
(bottom of photo)
To the immediate south, across the Spree River, is the government quarter. The shot below was taken in March 2002 from the south of the Spree. Just 3 months later, the station was opened for its first passengers. Yes- amazing.