North Beach Portal - Russian Hill Tunnel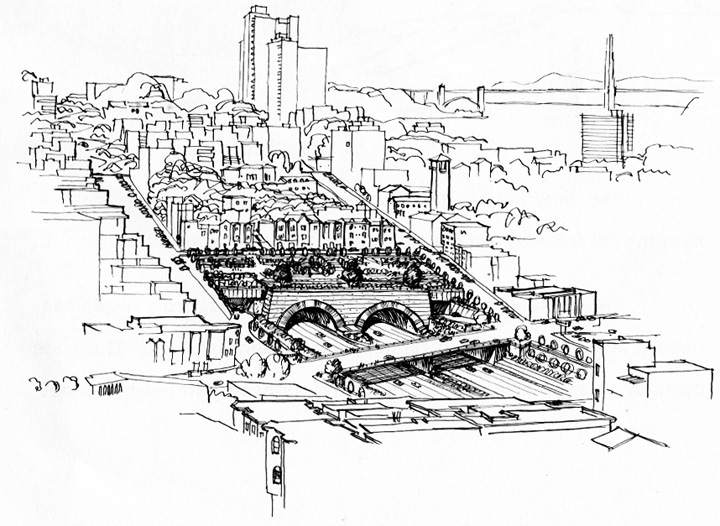 This is where I-480 would have crossed Columbus Avenue and entered a tunnel under Russian Hill. The drawing comes from "Golden Gate Freeway Interstate Highway Route 480" - March 1965 - by the California Division of Highways.
The cut across North Beach would have consumed the blocks between Chestnut and Lombard, from east of Powell Street to Jones Street. The street running along the top of the tunnel portal park is Jones Street, and major street crossing the open cut is Columbus Avenue. In the rendering, the famous "curvey" part of Lombard Street is in the upper left corner, and Bimbo's 365 Club is on Columbus, towards the lower right corner. The San Francisco Art Institute (with the bell tower) is just to the right top of the tunnel portal.
The Embarcadero Freeway would have turned inland and entered a tunnel under Telegraph Hill just west of Sansome Street at Filbert Street. This would have placed an elevated freeway across all the south blocks of Levi Plaza and the entire park. West of Russian Hill, the tunnel ends just west of Van Ness Avenue. The freeway would have continued in an open cut along the south side of Lombard Street and north side of Greenwich Street.
| | | |
| --- | --- | --- |
| 08.24.02 | | |