The Inner Sunset Interchange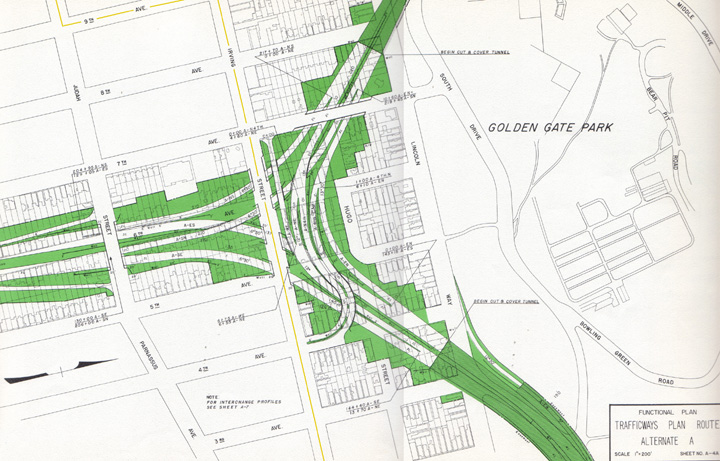 This is where I-280 and I-80 would have met, in the Inner Sunset neighborhood of San Francisco. The drawing comes from "San Francisco Western Freeway - Phase II: Route Location and Economic Study" - September 10, 1958 - by Wilbur Smith Associates.
I-280 comes in from the south (left side of the drawing) along Sixth Avenue. The proposed alignment used Junipero Serra Boulevard to St. Francis Circle/Sloat Boulevard, the blocks between 14th and 15 Avenues between Wawona and Santiago, and a long tunnel between Santiago and Laguna Honda Boulevard.
I-280 runs off to the north in a cut and cover tunnel under Golden Gate Park to finalize its tear across the city via Park Presidio Boulevard. The tunnel across the park would have cut through the arboretum, and run between the Japanese Tea Garden and Stow Lake. Cut and cover construction would have required the elimination of all landscaping along the tunnel route during construction, so even with re-landscaping after the project, the path of the tunnel would be visible, as in many places, there would be very little soil depth above the roof of the tunnel to allow mature trees to grow.
The I-80 leg curves to the east, diving into another cut and cover tunnel beneath Kezar Drive, almost touching the northwest corner of the old stadium, at that time the home of the 49'ers.Coming out of the park, it would be depressed as it cut across the end of Haight Street on its way to the Panhandle. The depressed section would run from the current location of Mc Donalds and Amoeba Records on the south side of Haight Street, diagonally across Shrader Street, and on towards Oak Street.
For reference, I've added a faint orange line, to show where MUNI's N-Judah streetcar line is.
| | | |
| --- | --- | --- |
| 08.24.02 | | |